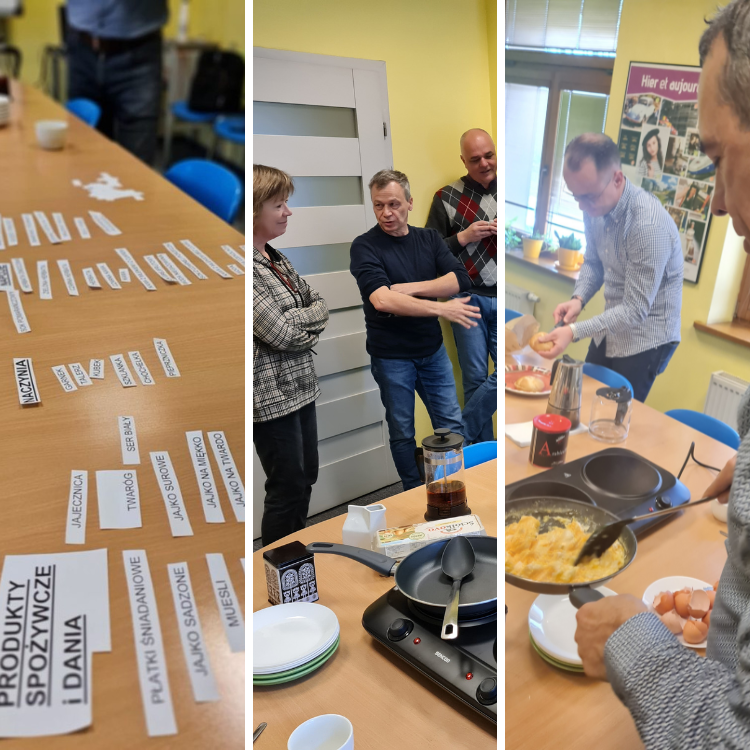 We run it every now and then, either before the classes or during the break. Students from all groups gather in the garden or in a classroom to make breakfast together while learning Polish at the same time.
The workshop starts with a warm-up exercise where the students match scattered pieces of paper with vocab related to the kitchen or items of food on them, to categories like NACZYNIA, PRZYRZĄDY KUCHENNE, or NAPOJE. Then, if time permits, we proceed to matching the slips with actual products and items on the table.
It's all really fun, and it doesn't really matter how fluent in Polish you are at the moment, as you will learn loads of new Polish food related vocabulary whatever your level. In addition, even if you are a complete beginner, you will not feel as if you're missing out, as these activities involve a lot of acting and engaging with your fellow coursemates and teaching staff. The breakfast workshop at PROLOG is all action… and eating!
Of course, all this fun and linguistic exercise can work up your appetite so after the intro activities we actually make JAJECZNICA or JAJKA NA MIĘKKO, have KAWA, HERBATA and CIASTO while trying to name what we are currently doing: MIESZAM, SMARUJĘ, SOLĘ, PIEPRZĘ (careful with this one), ROZBIJAM JAJKA, GOTUJĘ, SMAŻĘ, JEM, PIJĘ…
You will definitely enjoy this workshop when you come to PROLOG for a Polish course!